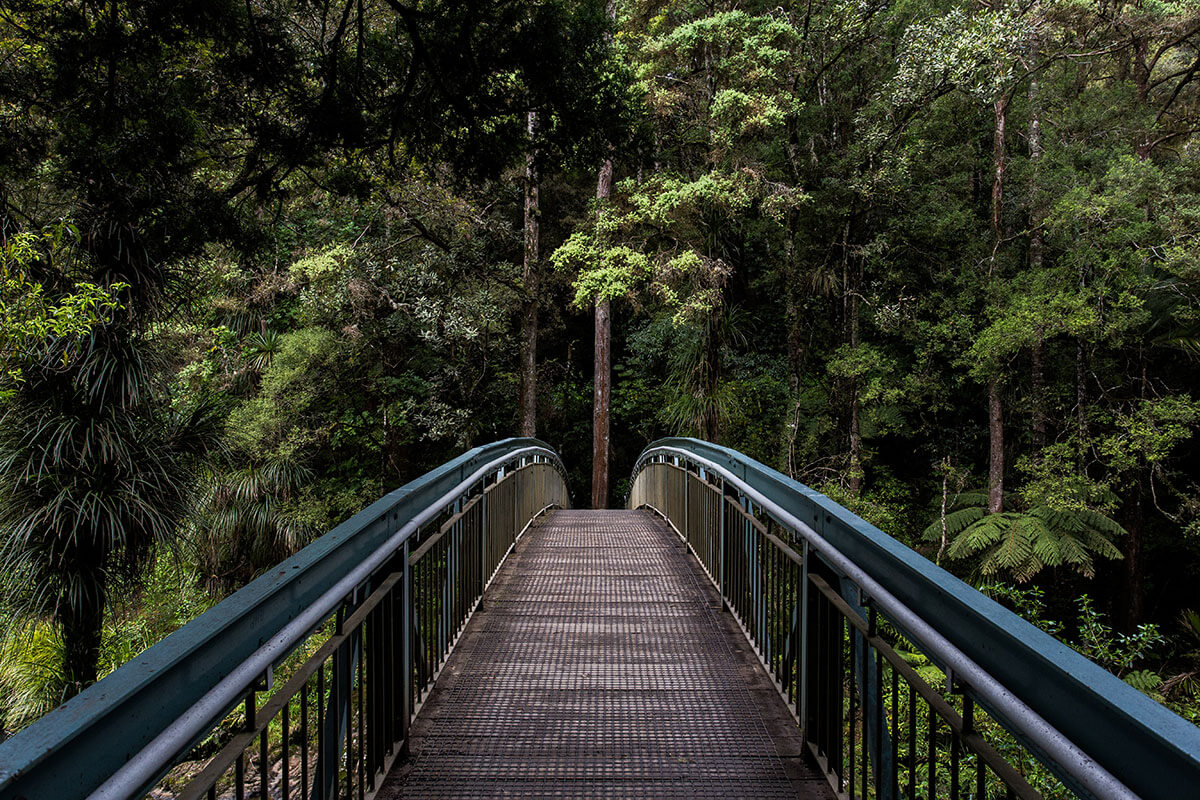 Develop values your employees can embrace and live by
By Jenn Lim
Putting happiness and humanity at the forefront of our work systems is the mission of Jenn Lim, CEO and co-founder of Delivering Happiness, and the author of
Beyond Happiness: How Authentic Leaders Prioritize Purpose and People for Growth and Impact
. Jenn champions purpose and values at work and in life. The key to understanding our authentic selves in our work/life journeys and the factors that lead to true happiness and what's beyond is something we need now more than ever.
Extraordinary results happen when people connect their sense of purpose to every aspect of their lives, especially at work.
We can grow successful businesses and live the science and art of a meaningful life by being our authentic selves and empowering others to do the same. Imagine if you came into work today and the negative norms of office culture were nearly eliminated: workplace politics, gossiping, toxic subcultures, cliques, micromanagement, etc.
What would that feel like?
Perhaps it would feel like a burden lifted off your back, or it could manifest as less anxiety about coming into work and less tension among coworkers and teams. In essence, you'd be in a better mood, more open to others, and
happier
. So how can you make this change for a happier, less stressful organizational culture? Create a company culture based on core values and higher purpose. Most people know that
purpose leads to profits
, but without core values, your company's higher purpose might get lost in the day-to-day operations of your employees. The tricky thing is creating core values that can both be embraced by your workplace and center your organization towards a higher purpose – that's why we created an infographic to support your culture journey!
Before you get started, here are some steps of our infographic that we want to highlight:
Commit – Step 1
Having alignment on the foundation of your culture is essential, and it starts with leadership. If your leaders aren't committed to living your company's core values, then it's not going to work. That means you have to get c-level executives, directors, and managers on board. Why? Because the rest of your employees won't be willing to go above and beyond for one another if their leaders act in opposition of the company's values.
Leaders are responsible for ensuring the happiness of their people. It's not just about interactions with the company; it's about the relationship between employees, leaders, and management. A survey can tell you that your employees are not motivated or engaged, but an in-depth qualitative assessment can determine the root cause behind the issues within your organization. Understanding the why is equally vital to pivoting and ensuring the success of your company moving forward.
Creating Values – Steps 4 & 5
Most people try to be perfect in crafting their values, but it's essential to take these steps to
collaborate, listen, and see
what ideas your team brainstorms. These values aren't just going to be lived by YOU, but by everyone at your organization. Absorbing input, adapting with feedforward, and having an open mind are vital. Values are our North Star. They shape the way we work together and with our customers. Your company's core values are more than words on a page. They are a way of life. They are the building blocks of your culture. Values can't just be a plaque on a wall; they need to be bought in by the people at all levels within the organization. A way to get people on board is to give them a voice with the opportunity for input when creating the company's core values. From there, identifying behaviours for each value helps define and bring clarity. Values and their behaviors need to be clearly defined so that they are universally understood across your organization. For example, if an organizational value is respect, that could mean many different things to different people. A representative group of people needs to develop specific behaviors to help define respect – such as actively listen when others are speaking or giving credit publicly and privately for ideas that people come up with. Do your organization's values still reflect the needs of your staff? Or worse, are they invisible? Your existing values do not have to be static or set in stone. If they no longer resonate, a refresh might be in order.
Defining Behaviors – Steps 7 & 8
After finalizing your values, you're now tasked with figuring out how to LIVE by them. That means you have to ideate on behaviours that support these values and how you're going to advocate these behaviors within the organization's framework and the role of your employees. An easy way to begin doing this is to imagine
your ideal culture champion
and ask what this person does to make them a champion to the organization. In order for this values system to take full effect, there needs to be alignment across the organization. Senior management has to buy into this, live it, and be willing to be measured on these values like everyone else. Top leadership needs to serve as role models to the rest of the organization. Growing, learning, and change is part of a healthy organization. A new and healthy culture will emerge when that growth is based on values (and leaders need to be seen as modeling that). Created with intention,
the Science of Happiness
, and our
15+ years in the culture space
, our infographic is made to help you take the necessary steps to have a values-based and purpose-driven company culture.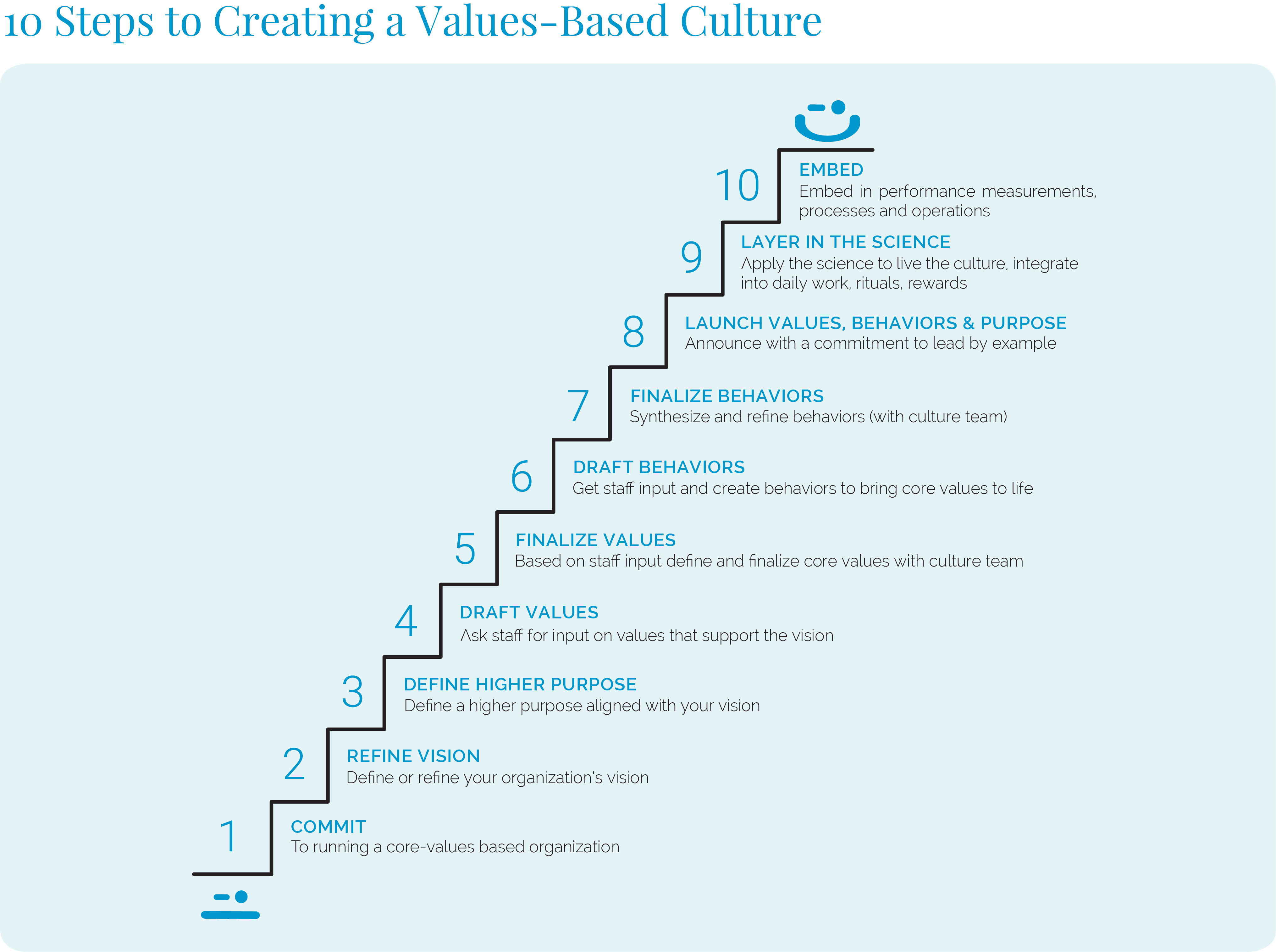 Embedding values and purpose in your organization will enable your people (and your business) to be resilient even in the face of VUCA (volatility, uncertainty, complexity, ambiguity). This means that no matter the chaos swirling around if we ground ourselves in our purpose and values, we can withstand the storm. When people's individual values align with an organization's values, they will feel more connected, creative, productive, and loyal. Embracing values and purpose not only benefits your employees but can boost your profits too. The future of work is now, and it is happiness and humanity. This is evident in how consumers are making buying decisions now. According to a
Forbes article
, 71% of customers say if they perceive a brand puts profits over people, they lose trust, and one-third of consumers will reevaluate what they value most. Another article states 64% of customers choose to buy from socially responsible brands. Brands with clear values that they communicate to their customers will gain respect, appreciation, and a loyal consumer base. Happiness and humanity are not limited to what consumers want; employees want this too. A
Glassdoor survey
discovered that 77% of the adults consider a company's culture before applying for a job, and 79% consider a company's values and purpose before applying. Furthermore, 73% of those surveyed said they would not apply to a company unless its values aligned with their own personal values. These stats reinforce the DH philosophy that both customers and employees want to buy from and work for organizations that focus on people, purpose, and values.
About the Author: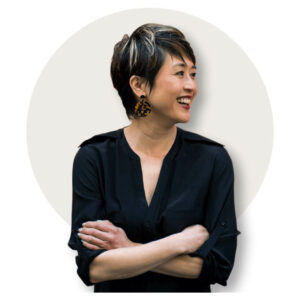 Jenn Lim
is the CEO of Delivering Happiness (DH), a company she and Tony Hsieh (the late CEO of Zappos.com) co-founded to create happier company cultures for a more profitable and sustainable approach to business.
Delivering Happiness
started as a book (
New York Times
and
WSJ Bestseller,
which
sold one million copies worldwide
). It evolved into a business consultancy and
global movement
that has impacted and inspired companies and organizations worldwide. In her new book
BEYOND HAPPINESS:
How Authentic Leaders Prioritize Purpose and People for Growth and Impact
, Jenn draws on her decades of experience in culture and strategy to translate it into a practical "how-to" framework for more sustainable workplaces and modern organization design. She guides all of us
– no matter our title or role –
how to live more meaningful lives through the work we do every day.